Zombie Dinner Family Costumes
Even zombies need to eat dinner, this costume will definitely feed your creativity! A romantic dinner for two zombies that can be served however you'd like. Anyone will enjoy this meal as it isn't too dificult to prepare and will satisfy all of your zombie cravings!
So my family, especially my son, was incredibly close with the school principal. My children have the last name binetti. The school principal referred to my kids as binetti spaghetti. So we became known as the spaghetti family. Fast forward to 5th grade. It would be my son's last year at the school, so we took spaghetti family and made it literal. My daughter was a box of Ronzoni made out of cardboard and pipe cleaners.
My son became a romantic dinner for two zombies. We put a paper checkered table cloth on a rectangular piece of cardboard. A plastic candle with paper for the flame. Two paper plates with yarn glued and swirled to look like pasta. Red paint for the blood/sauce. Styrofoam balls painted brown for meatballs and Halloween eyeballs placed on it. A menu of classic zombie meals like brain shakes, spaghetti and eyeballs, kidney lasagna.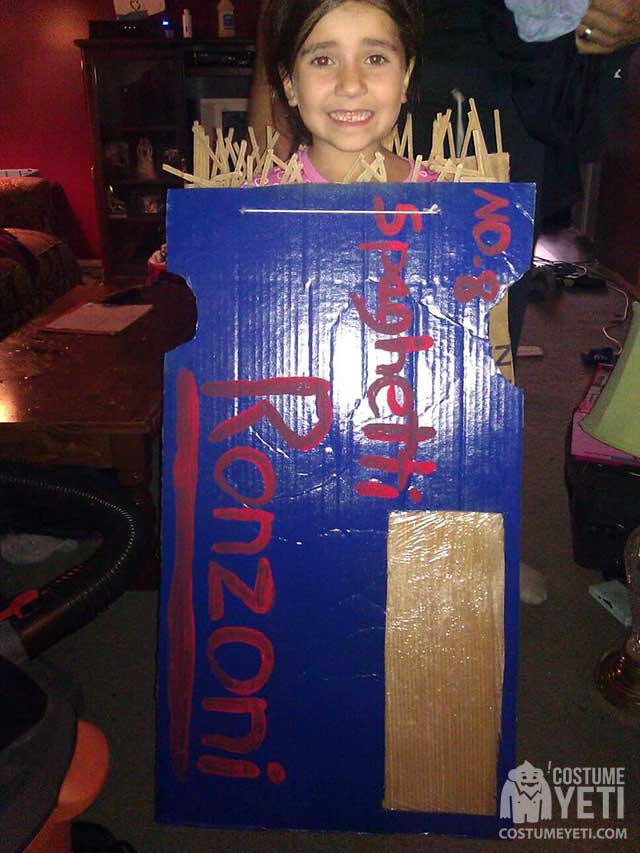 We used string to keep the "table" wearable and topped it off with a chef hat. The costumes were a hit. The principal loved it, and it made lifelong memories and bonds for all!