10 Epic Wonder Woman Costumes for 2018
#1
Note from Krystal: I usually only make costumes for my kids but this year for my birthday I decided to make one for myself and challenge myself by making armor. This Wonder Woman outfit took me 3 days to make and is mainly made out of foam and then hand-painted. Being a mom of three beautiful children it was nice to feel like Wonder Woman for day.
#2
Note from Charity:This is me in my 2017 Wonder Woman costume. I absolutely love her and am so excited for this movie to come out. I wanted to do a different rendition than the original comic version and decided to take on the challenge of the new film version. Main materials include foam, more foam, cardboard, primer,and paint. My goal was to make it for under $50 but really good quality. To do this i had to become very creative and use things i wouldn't normally think to use. For example, the shield is made out of recycled puckboard (yes the stuff used in ice rinks) that i got for free ,a paper plate(for the inner raised part), and an old belt(for adjustable wrist straps) I primed it, painted the details, and varnished it. I also ended up using chopsticks, a pen,cardboard, and foam to make the sword. It took a lot of trial and error and creativity to figure out which materials i already owned that i could use . I actually ended up making another version of the breastplate out of EVA foam but liked the craft foam better. The entire costume ended up being $25.
Cost
foam-20
paint-5
Thats it! Everything else i either owned or got for free!
#3
Note from Mary: I was inspired by the Wonder Woman costume Lois Lane wore in an episode of Smallville. I purchased a gladiator costume from a costume shop, and the painted it using puffy-paint and leather pigment. The star are made of wood, and my crest is made from foam. I spent a year getting fit so I could wear my creation with pride.
#4
Note from Jessica: Jessica Barnes is wearing the costume of Wonder Woman. I made it out of two t-shirts, felt, elastic, thread, fabric paint and duct tape. I wanted a costume that would be comfortable and more modest than some of the store bought costumes and didn't want to spend a fortune. I found the t-shirts at a thrift store and had some supplies on hand from other projects. In total the costume cost about $10 in materials, and took about 3 hours to put together.
#5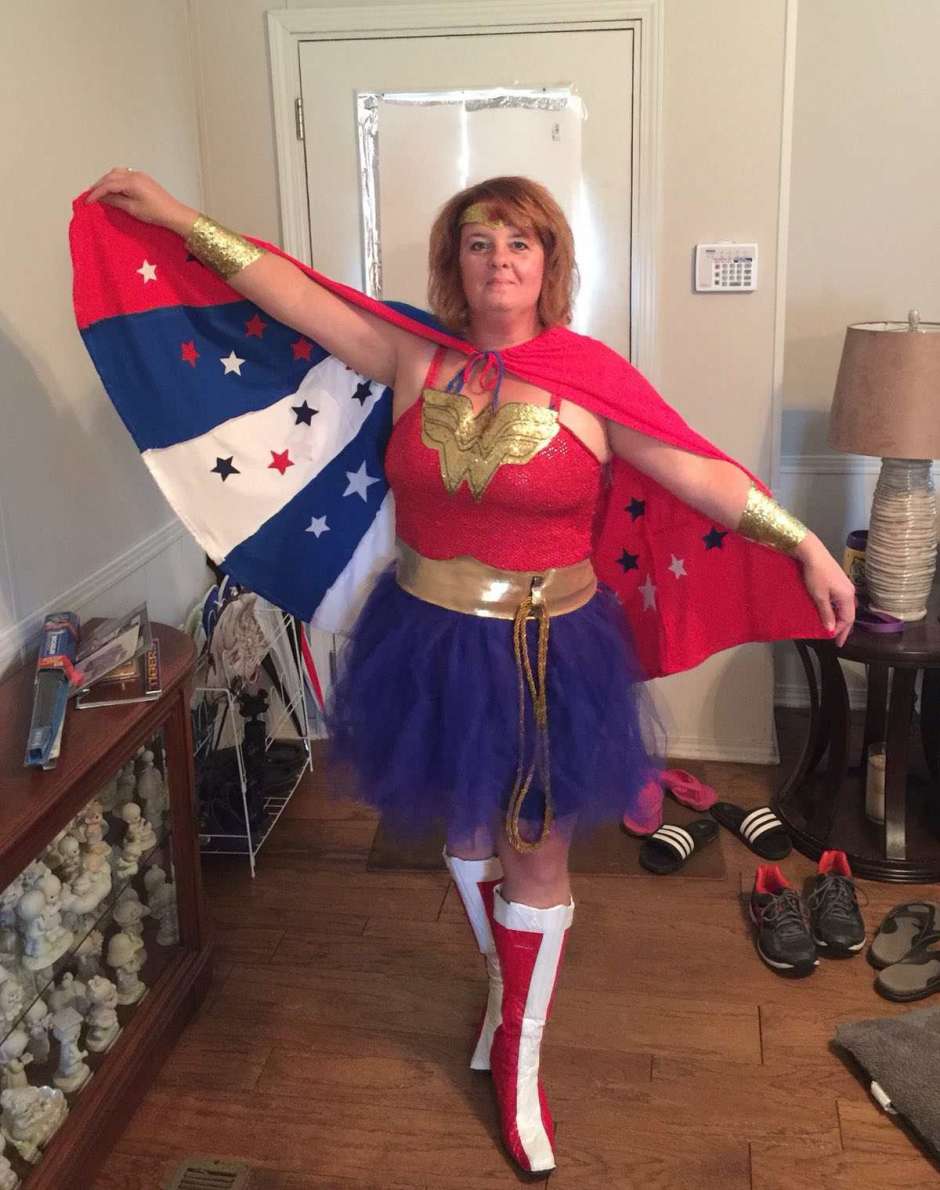 Note from Andrea: "We all say moms are super my son says I'm his wonder woman mom so I made this. The cape is made from T shirts cut and sewn in strips with hand cut felt stars glued on. The skirt is blue tulle knotted on to an elastic wasit and a piece of gold fabric belt. The boots were $2 from Goodwill and the design is made using red white duct tape. The top is a generic corset that red fabric was sewn to. The wristlets, chest logo and head piece are cut from glitter board. The rope is just a piece of curtain ties."
#6
Note from Michelle: Two years ago, my colleagues and I decided to dress up as superheroes. I was my favourite character, Wonder Woman. The top and tiara came together as the costume. I bought separate tights and stockings, and a blue tutu. I added the wig and made my cuffs out of felt. Sure felt like saving the day that day!
#7
Note from Amy: I'm wearing a Wonder Woman costume that I made! I sewed the headband, belt, and cuffs, and I also created the whip and made the tutu that I added stars to! I feel some days like I AM wonder woman! I babysit my sstep-dad kids everyday and also still care for my 17 year old. My husband and I have 6 kids and we currently have 7 grandkids!! I'm only 38! But I enjoy and love every single second of their presence!! Wonder Woman I AM!! 🙂
#8
Note from Alyssa: My dog Dixie and my baby girl we all decided to dress as Wonder Woman the best super hero of all !
#9
Note from Monica: The costume is a mom-made piece and is modeled by the lovely Saige. Each stitch was sewn by hand. The stars on the skirt also painted by hand. The tiara was made from instamorph moldable plastic and the lasso was made with duct tape and a wooden dowel rod (so she wouldn't drop it if she wanted to lasso villians). She was my superhero anyway but felt like being a different superhero for the day 🙂
#10
Note from Christy: My little girl's costume was home made! Her skirt is a no sew tulle skirt. I recycled her 2 yrs ago skirt from her Anna costume by removing the purple flowers it had with stars in it around. Her shirt is a boy's basketball tee. Where I sewed gold fabric around the edges and cut and glued the symbol on top of a shaped felt and then sewed it on it. Everything was hand sewed. Her head piece and hand wraps were also made with foam inside to stay in place for the head piece. Overall the total cost for the costume was $3 on the golden fabric. Everything else I had at home. She loved it and got lots of complimates on it, thinking it was store bought.