Voodoo Dolls Creepy DIY Halloween Couples Costume
These costumes were a DIY. I got the idea from a picture online but the picture I saw had a complete closed in mouth and for our party that wasn't going to work so i had to do a lot of changes in order to get out mouths to be able to open and close so we could eat, drink, and talk lol. I am completely self trained in fx makeup, i started teaching myself about 4 yrs ago, I do it just for fun, we LOVE HALLOWEEN.
These costumes I did for my husband and I were made up of 6 individual prosthetics each ( top lip, bottom lip, left cheek, right cheek, and both left and right eyes.) I made them all my self out of liquid latex, tissue and twine. I started the prosthetics at 11:00 am on Friday the 28th (hours before our party) and finally finished all 12 pieces at 4:30ish. My makeup took me over 2 hours, it always takes me longer on myself. I decided that we needed nose holes because I couldn't go all night with out being able to breath. So I took my exacto blade and started to very carefully cut where my nostrils were, when I felt the tip of the blade on my nose, I then grabbed the end of one of my makeup brush and started to push it through in a twisting motion.
They are not easily seen but they helped us a lot. And yes the way I made mine, I did the exact way on my husband just told him to sit very very still and to tell me when he felt a poke lol. I used all Ben nye makeup for the coloring , shading and even the blood. And after I was happy with how it looked I then sealed it with Ben Nye's setting powder. The hair is a wig obviously only because I have short hair and I wanted something more full and messy. My husbands makeup took me exactly 2 hrs (now that I knew what I was doing, after doing mine first. Yes, my makeup was the first time I had done it and wasn't too sure on how it was all going to work at first, but just went with it.) I also used cheap makeup brushes, qtips and makeup stippling sponges to get the detail I wanted. I started first with incasing our nose in, then moved to the mouth and cheeks, (each time layering more and more latex and tissue) then I did one eye at a time, placing it just right so we could see perfectly.
Lastly I made our pins out of qtips, paint and foam balls from the craft store and cut slits in our already fully done makeup and stuck them through sealing them with cotton and latex. Our clothes are from the salvation army.. I found my dress first with not a clue on how I wanted it to look. It was a long prom or bridesmaids dress. Brought it home, stared at it for days and then finally one morning hr's before I had to be in class I took my scissors and started cutting (no going back now) after I started I got a picture in my head and again went with it, I knew I wanted it shorter in the front and longer in the back, definitely didn't want it nice and neat.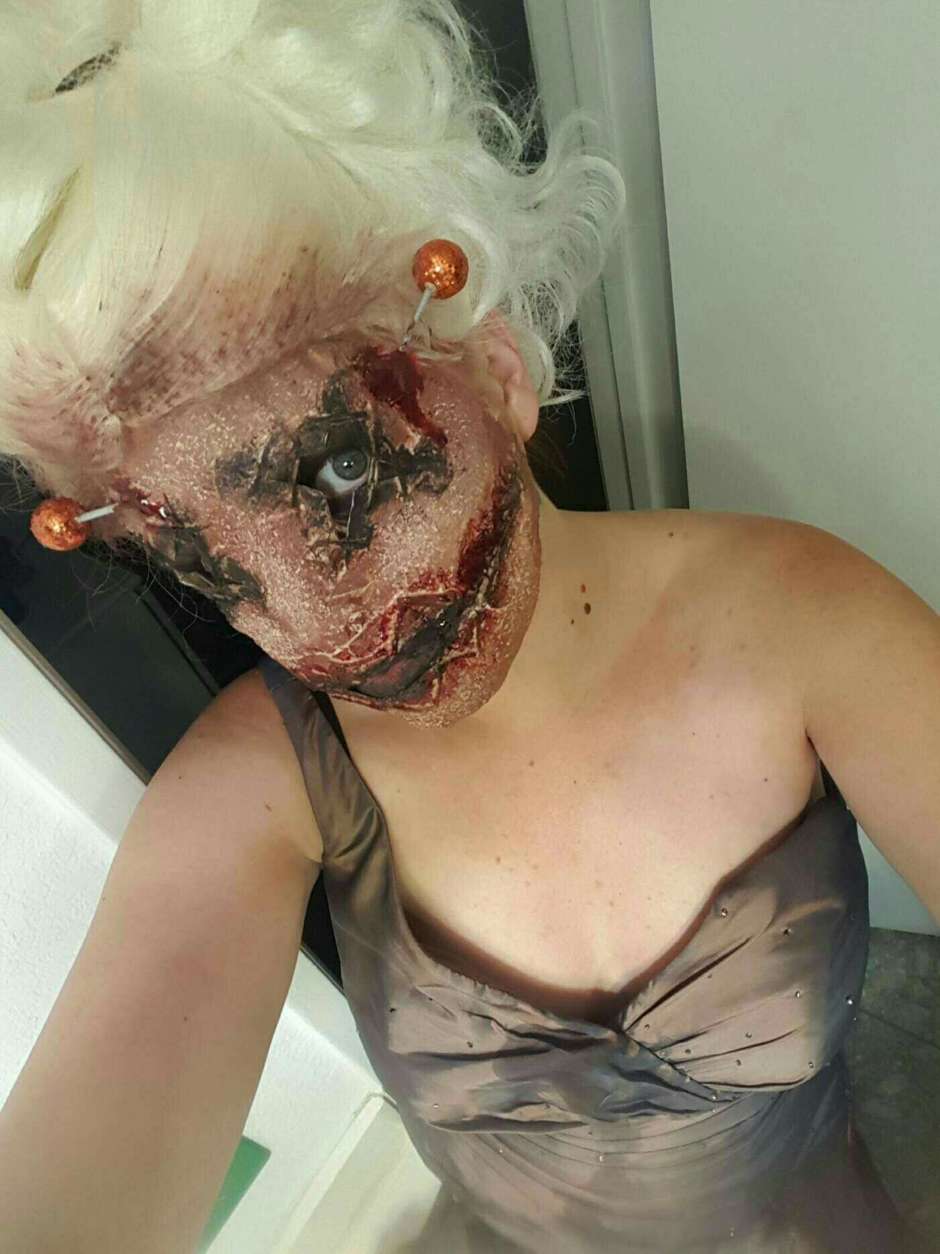 Wanted to also make it a strapless, but because how the material was pulled to one side on the back, the one strap wouldn't lay right so I decide to change it to a one straps dress and give it an even more funkyer look. I used the excess material and I made a fabric rose for the front (cause something was missing there when I bought it) then I made a big bow to add to the back to just add a Lil more design. Then I took mesh and sewed it in the front to make it more puffing and flattering. I finished my dress in about 6 hrs total. After I finished mine I then knew just what to look for when it came to my husband clothes.
Went back to salvation army and got him a tweed suit jacket with brown slacks and a brown button up. Brought it home and started cutting it up and sewing it back together with twine, then I made patches out of tweed ribbon I found at the craft store and sewed those all on the jacket and pants. Wanted him to have the stitches like a voodoo doll so he looked like he had been sown together. Then I made some matching patches and attached them to my dress. We wore our costumes for 7 hrs they were are best yet and a huge huge hit.
It was even better when at the end of the night our friends watched us rip these suckers off. They came off fully intact and now they are going in a shadow box and going to be hung on our wall where I have more props I have made through out the years.