Nightmare Before Christmas Group Costume
This is a 40 person group costume I created of almost all of the characters from The Nightmare Before Christmas! I made 7 of the main characters for Halloween 2014, then made 6 more for 2015 – this year I went crazy and made all the rest of the costumes, each of which has some sort of puppet element to it so that the characters come to life with motion similar to the iconic movie.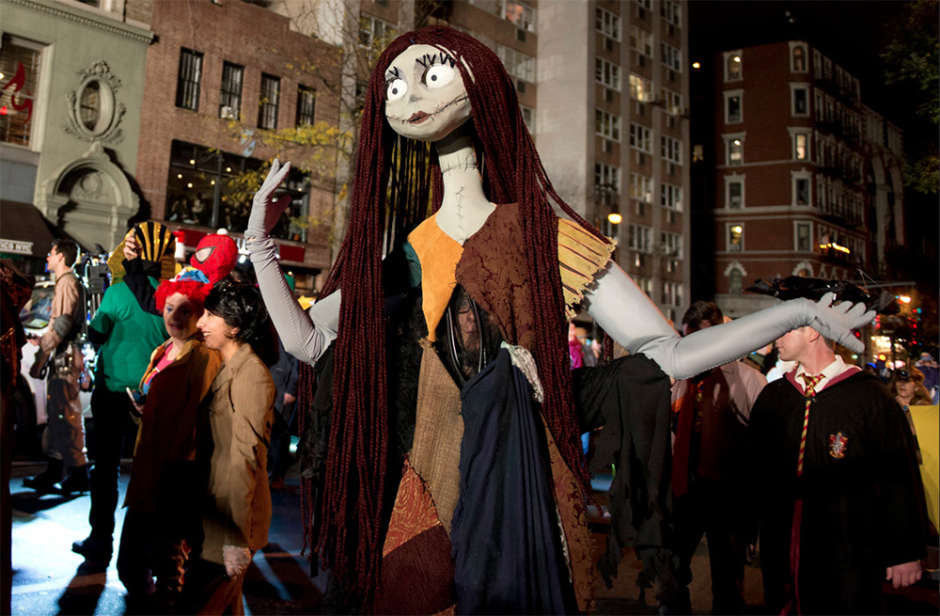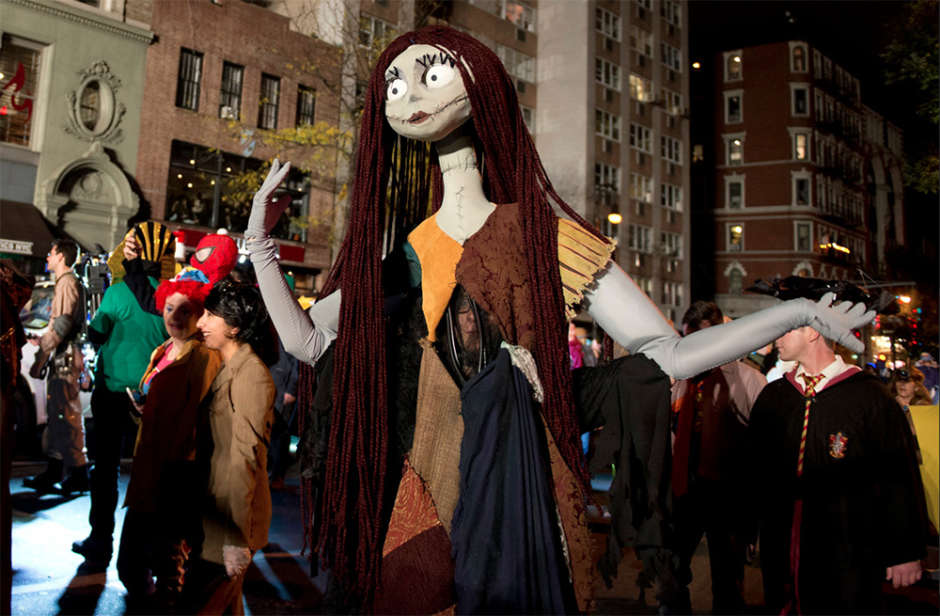 We walked this year in The Village Halloween Parade in New York City and were a huge hit! I wanted to make it so the characters would capture the look of the movie while still fitting with the handmade style the Village Halloween Parade is known for. Jack Skellington in particular is made to echo their famous oversize skeleton puppets, but on a level more closely integrated to the person in the costume.
Each costume was handmade by myself using both traditional costume materials and non-traditional objects – Oogie Boogie is built over a tricycle so that he doesn't fall over (he is 13 feet tall!), the Kidnapped Santa Claus uses a big Hoberman Sphere to frame out his body so he's hollow for the person to fit inside and control his head while walking around. Some of these costumes use umbrellas, bicycle helmets, backpacks, and such to give shape or add stability. Lots of the heads are paper mache, or cardboard covered in expanding foam for texture, many with eyes made out of Christmas Ornaments. Then I covered them in all different kinds of fabric that felt like they could come from Halloween Town, and then painted the heck out of them!
Many of the costumes have a special prop too – most notably the 8 foot tall "Pumpkin King" scarecrow on a wooden horse, pulled along by the Behemoth as in the opening scene of the movie.
I hope to keep the collection going making more characters from the movie — maybe next year we'll have a group of 50 people! Enjoy 😀