Mother Gothel from Tangled
Tangled was a big Disney hit and anyone who saw it would definitely remember the main antagonist, Mother Gothel. This dress matches hers in color and design, even the trim is the same. This is one villain that'll be hard to stay away from this Halloween!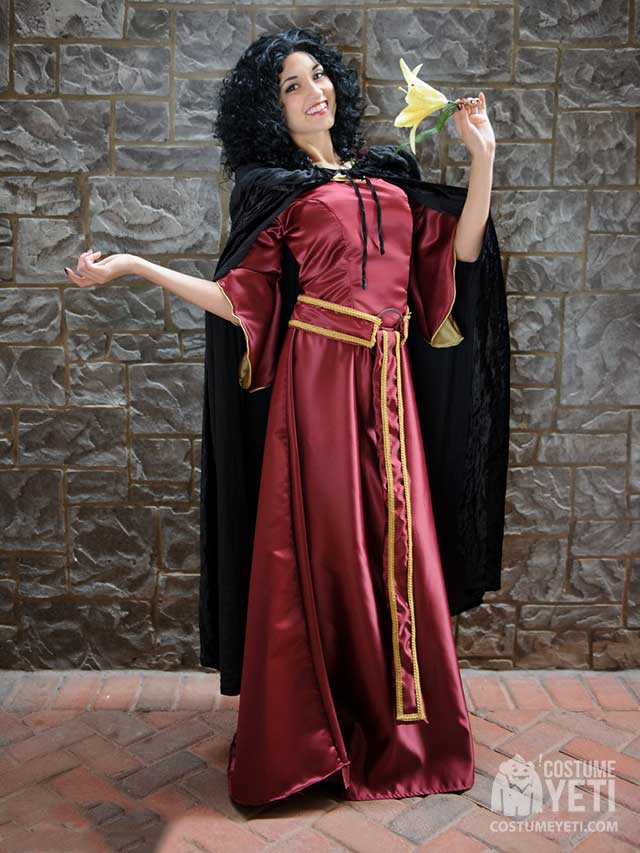 A message from Desiree, the creator of the 'Mother Gothel from Tangled' costume:
Mother knows best~! I had an absolute BLAST in the costume! It was my first time dressing up as a Disney Villain and I'd do it 100% all over. Even though I'm a villain, I had a lot of children come up to me and ask for photos!
The dress is made from a matte red dutchess satin with princess seams to have it fit at the bodice but flow at the skirt. The sleeves are lined with a matte gold dutchess satin as well – I did not line the dress to prevent myself from overheating as I did wear it during the summer time. The neckline has a black and gold trim while the sleeves have a small golden rope trim – all of which I did by hand to prevent threads from showing. The middle belt was made from the same red satin and a dull gold trim; the middle section is actually a scarf holder that comes with it when you buy them at the store! I just painted it to match the dress.
Black velvet crush robe was borrowed from a friend. Flower bought from JoAnn's. Wig bought from my local wig store and the contacts are from Pinky Paradise in the color New Adult Grey.
(You may also like: DIY Rapunzel from Tangled)