This costume puts a creepy spin on a classic favorite by turning that family tree into something much more. It contains a family of killers that'll surely send some chills this Halloween. It did take quite a bit of work to put this one together but in the end it was well worth it!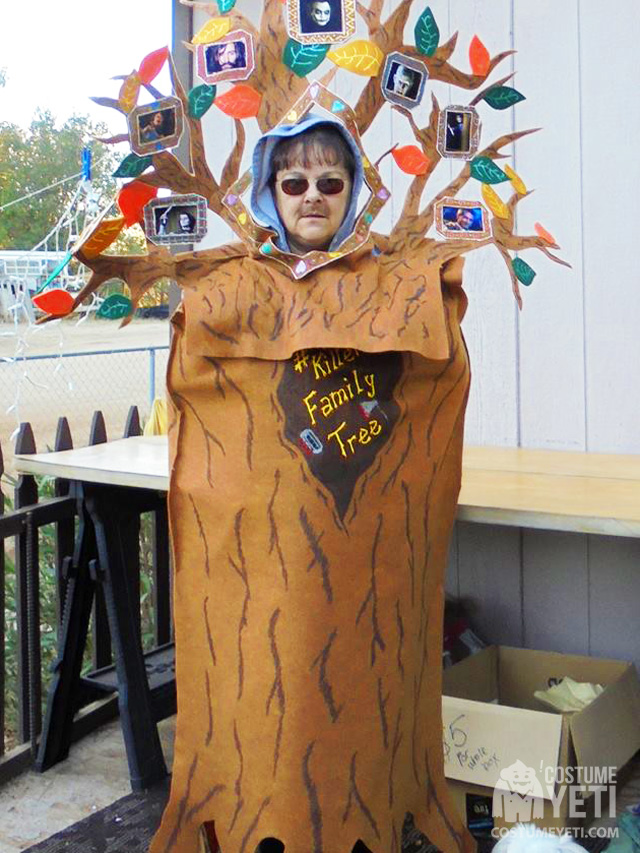 A message from Ellen, the submitter of the 'Killer Family Tree' costume:
I've never seen a family tree costume. That was my inspiration. I decided that instead of nice I was going to go the spooky/scary way. It's all handmade using different colors of felt material (brown for the trunk. Green, yellow & orange for the leaves). Fabric paint, hot glue and bendable wire (to make the branches stand up). Also pictures of killers (Hannibal, Norman Bates, Sweeney Todd's Barber, Chuckie, etc).
I made myself up to be the Unibomber as the focal point. Each frame around the individual pictures of the tree were cut specifically for the size of that picture. The tree itself is two~sided so no matter which angel (front or back) looks the same except for me.
This project has taken approximately 1 week to pull together. I've included myself in the costume as well as 3 more of the costume itself so you can visually see the artwork closeup. I hope I've done this right. Happy Haunting!