Homemade Father and Daughter Shark Hoodie Costumes
These shark costumes cue the Jaws music and make everyone swim back to land! They're made from old hoodies and household supplies and have all the shark details and features that make them so impressive but scare us all so very much. Nobody will want to hang around too long with these sharks lurking around!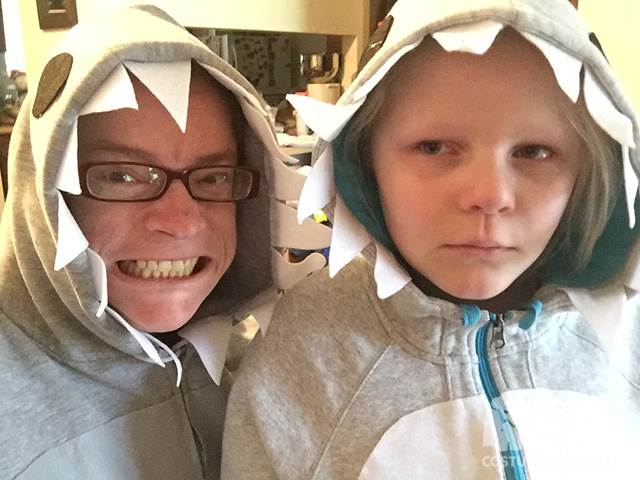 A message from Jamie, the creator of the 'Father and Daughter' shark hoodie costume:
We had to have some pretty cool costumes to keep up our tradition of neat hand made costumes. The thing is we had just moved to a new area, had about a $4 budget, and our new town has no options for shopping. With my daughter having such sensory problems, and our new town being on the coast we had to be ready for rain or some pretty fantastic horror movie fog.
We came up with sharks last minute and I had all the supplies on hand. I took grey sweatshirts we hardly wore, felt and fabric glue, and a bit of hot glue and whipped up a couple of sharks in about two hours.
We used white felt for the front and teeth, black felt for the eyes, and grey felt for the dorsal fins.
These were by far the easiest costumes I have ever made. We got all sorts of compliments and even got an offer to buy the costumes.
Happy to say, easy was the big hit for a couple of candy sharks!
My daughter loves the how easy these were to make, put on, take off for bathroom breaks.