Homemade Peacock Princess Costume
I made this Peacock Princess outfit for my 2 year old daughter Ahzaleah (Azi for short) Mallery. Her room is done up in peacocks because I love the purple and teal combo and peacocks. 🙂 She kept telling me she wanted to be a princess, then she'd see a peacock in her room and tell me she wanted to be a peacock a few days later. I figured why not be both! I made the tutu out of 5 different types of tule.
The feather train I had the most difficulty with. I wanted it to just about touch the ground and flow behind her, but with a busy 2 year old I wanted to be able to detach it. I ended up attaching the feathers to fabric which had velcro that attached to the tutu. This way if she wanted to sit or we needed to strap her into the stroller I could easily remove the back side. The top fan part was pretty simple. I took feathers and hot glued them to a piece of cardboard. I put a cardboard top on it and then glued purple feathers on both sides. At the bottom of the feather fan I attached a head band that could easily be slipped over her head with a cute peacock (of course) decoration on the front.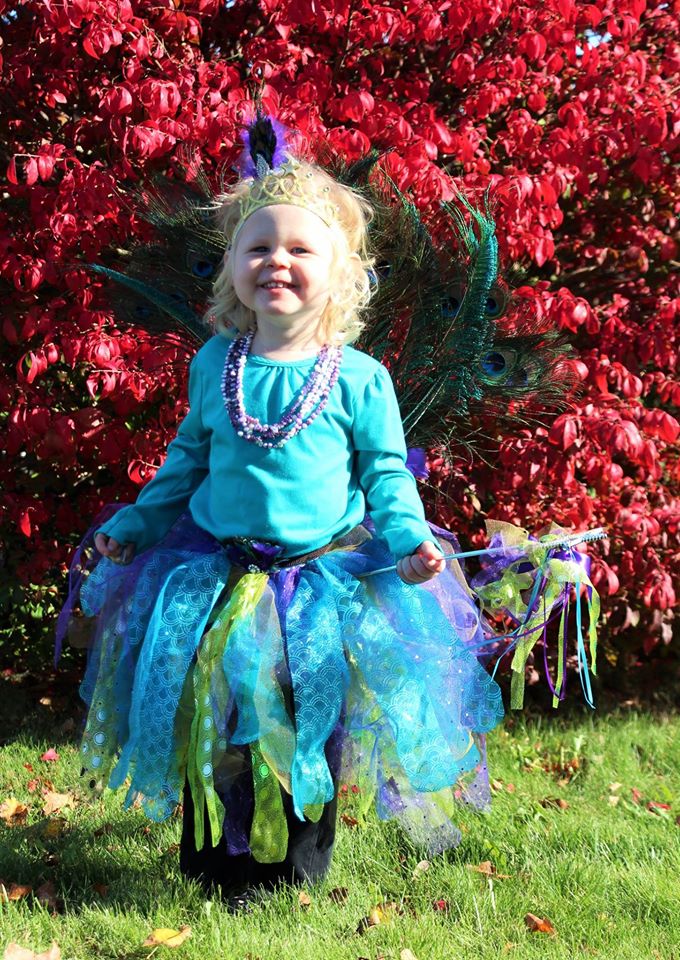 Her crown was bought off amazon and I made the hair clip that attaches to the top. I fancied up a princess wand from the dollar store with some ribbon and tule. We got lots of compliments at the fall carnival we went to yesterday so I figured I'd try a contest. She loved the attention and did a little dance routine anytime someone said how cute she was. Princess for a day!
Peacock Princess costume submitted by Ashley M.