Genius Minion Family DIY Halloween Costumes
Every year I try to make a family costume. Luckily, for this particular year, my daughter wanted to be a Minion…and when my son saw her costume, he really wanted to be one, too! Both of their costumes were made from those foam mattress pads with the "egg-carton" part on the inside. I shaped them into Minions and measured where the kids' heads and arms would go.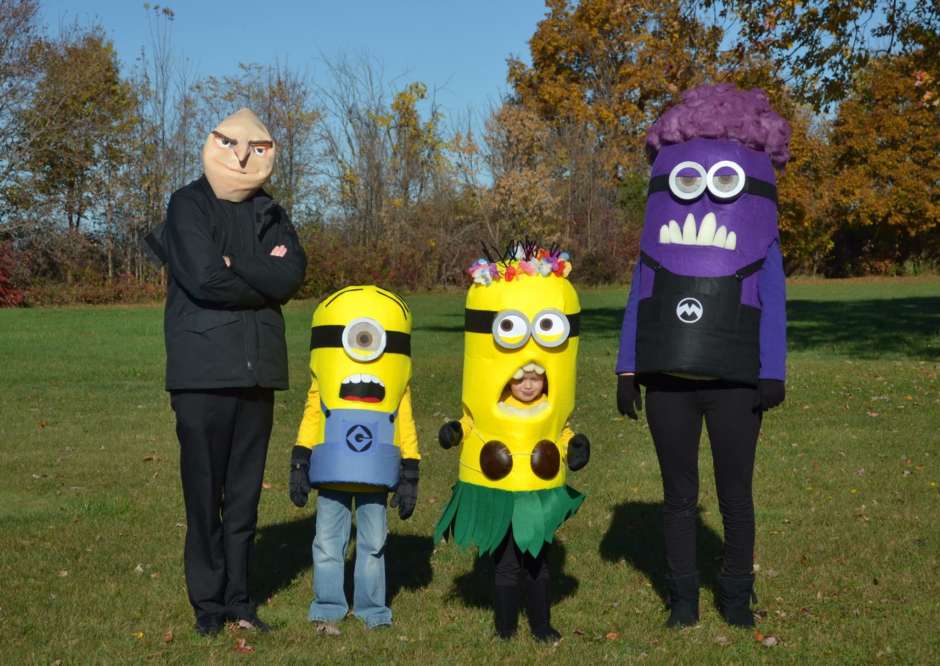 I made my daughter's so that her whole face would be able to be open, rather than covering it like I did with my son's. This was just because she was younger and it was much easier for her to be able to walk around and still see things easily. I used yellow felt to cover the entire costume, and blue fabric to make my son's overalls. My daughter wanted to be a hula Minion, so I used some green felt to make a skirt, and a coconut bra was added….super easy! I used pipe cleaners for the hair, too!
After the kids' costumes were finished, I decided to make a purple Minion for myself. Same plans as with my kids costumes, but I obviously used purple felt instead. The teeth are made from extra foam, and the hair is made from cotton batting spray painted purple (this was the hardest part – to get it to look "wacky"). And what would the Minions be without Gru? So I found a Gru mask for my husband, and a simple black coat and pants as well as a striped scarf, and there was his costume! I love how our family costumes turned out!