Genius Chewbacca Kids Costume
My 5 yr old son Andrew (AJ) is wearing this homemade Chewbacca costume. It is made from a brown long sleeve shirt and sweat pants. I took yarn and wrapped it around cardboard alternating between dark and light brown as random as I could.
I then used 3m spray adhesive to glue it to the shirt or pants starting from the bottom. I then cut the bottom of the loop around the cardboard, flipped the yarn up so that it laid open flat, I then sewed it on a sewing machine. flipped it down and applied the next layer in the same way. it took me forever.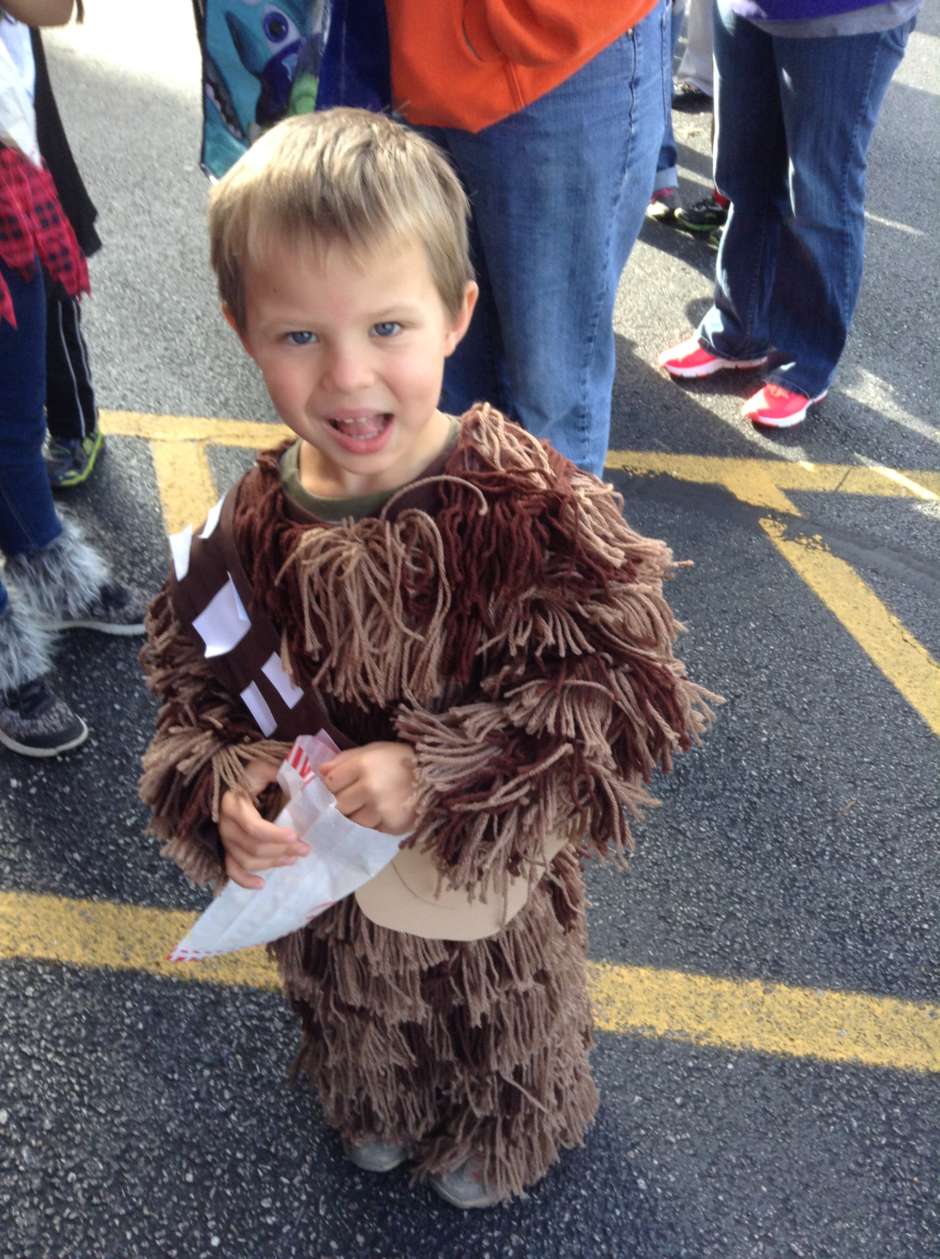 For the mask it was bought and made the chewy sound. I took a pillow case and cut it like a hood and applied the yarn to it in the same manner then attached that to the straps of the mask with safety pins. the sash is also made from the pillow case. with white construction paper glued on and the purse looking thing is a piece of that foam craft stuff my wife had laying around.
As for inspiration my son had seen the movie (the original 1st one) sorry don't know the name I'm not a star wars fan, LOL . well he wanted to be something from the movie, while out shopping I saw this mask in the toy section. He thought it was funny and cool. So he wanted to be chewy, I told him the mask cost to much maybe I could make something. He was fine with that, and so I looked up everything I could find and nothing looked very real, if you will.
So I decided maybe yarn would work but couldn't really find a way to attach it. I tried hot melt glue, fabric glue, carpet glue, that iron on film stuff. getting aggravated looking thru the garage I tried wood glue again it didn't work so I noticed the spray glue that I had made tack boards with and said hey that stuff worked great on clothe and so I tried it and what to my amazement it worked great. I got the pants done and they looked so cool I couldn't stop even though by this point I was over this process and had spent way more money than I wanted .
After getting the shirt done. my wife was so impressed with how it looked she insisted that I spend the money and buy that mask. then that lead to making the hood. about 6 months later I seen the video of that lady with this same mask and thought really I had that months ago and all that work I did and she gets famous from just buying it and acting like that.