DIY Golden Medusa Costume
This golden Medusa costume is absolutely mesmerizing. The snakes look astounding and will fool anyone into believing that they're real. It's hard to believe that this costume was homemade as it looks like something out of a movie. She definitely brings the Greek monster to life with this costume!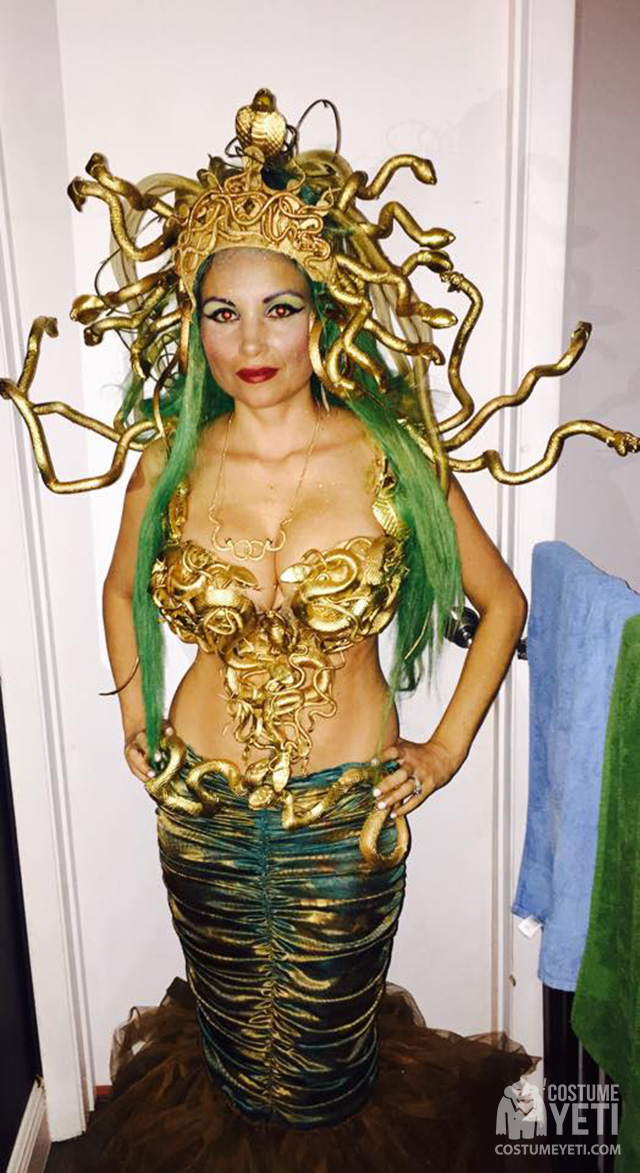 A message from Diana, the creator of the 'DIY Golden Medusa' costume:
So this is my golden sexy Medusa costume, I hope you like it 🙂
Skirt: I made the skirt out of a crunched strapless dress, tulle and spray paint. I just added lots and lots of tulle at the bottom and spray painted the skirt using stockings to create a scale look.
Top: I used several snakes, craft wire, florist wire (all purchased at the Dollar Tree) window insulation foam (Home Depot), snake puppets (Oriental trading) and spray paint. I used a padded bra and worked my way down, attaching each snake using the florist wire. I used the craft wire to make some type of shoulder pads. I attached to the window insulation and glued the snake head puppets to each snake.
Head Piece: The snakes I made from craft wire, window insulation, snake puppet heads, spray paint and also used Cyber Locks. All I really did was tight them to the wig and secured them with craft wire for extra support. I made the crown with little snakes from the Dollar tree and craft foam I just hot glue it to the wig.