Epic DIY Kids Bumblebee Transformers Costume
My son is on the Autistic Spectrum and gets consumed by certain subjects, characters, objects and movies. He watched Transformers probably more then 50 times. He loves Transformers and one of his most favorite one is Bumblebee. We wanted to buy a costume and we looked everywhere, but he was not satisfied with any of them. He will get obsessed with every detail and all the costumes we looked at were just representation of Bumblebee at best. He dreams that Transformers are real and would love to see them in real life. He wanted to have a costume to look just like Bumblebee in the movie.
I was not sure where to begin at first. Matthew started throwing some ideas and it popped in my head that we could use foam floor mats. I purchased material and tools which I've never used and had no idea what to do with them.
We searched the internet for tutorials. I made a ton of mistakes and learned a lot about molding, spray painting and shaping. I made patterns, cut the foam and shaped it with a hot air gun. We found some objects we could use for details like plastic bottles and aluminum caps, Mason jar metal tops, rings for fabric napkins, plastic tubes, and plastic containers. In the thrift store we bought a used toy car for wheels and an old soccer uniform for frame and shaped foam. I had some clear plastic sheets from previous costumes for windows. Most of foam parts were covered with liquid plastic (like paint) to make it smooth and it also helped the pieces to hold there shape better. I used LED lights for headlights and Bumblebee's eyes.
The hardest thing was painting it. To paint all the parts I used plasti-dip spray cans. It's such a difficult paint to use. It is very sensitive to temperature and humidity and it does not behave the same way as regular spray paint does. I chose this paint because it's flexible like rubber and wont crack when bent. It also looks very much like metal and durable. If it peels off, it rolls up and I can just glue it back.
All parts were glued with hot glue and Industrial Velcro. Front and back attached to each other at the shoulders with Velcro and just hangs over Matthew's shoulders. Arm and leg pieces are attached with elastic and Velcro. Boots are rain boots covered with foam and detail pieces are hot glued to it. He wears gray shorts and leggings under the costume.
I inserted a voice changer, which I took out of a Transformer Bumblebee helmet, in to the chest piece for radio talk effect. We bought Bumblebee Transformer gloves from a store.
It cost me about $160 of raw materials plus about $40 for other things like gloves, gray top, leggings and used items for parts.
I made all my son's costumes for every Halloween. People think I am "crazy" or bored, but they are very impressed and can't wait to see what he will wear next Halloween. This one became the biggest project ever, that took me almost 2 months to complete. It was worth it. My son was screaming in delight when he saw the details emerging while I was working on it. I've never seen him so happy.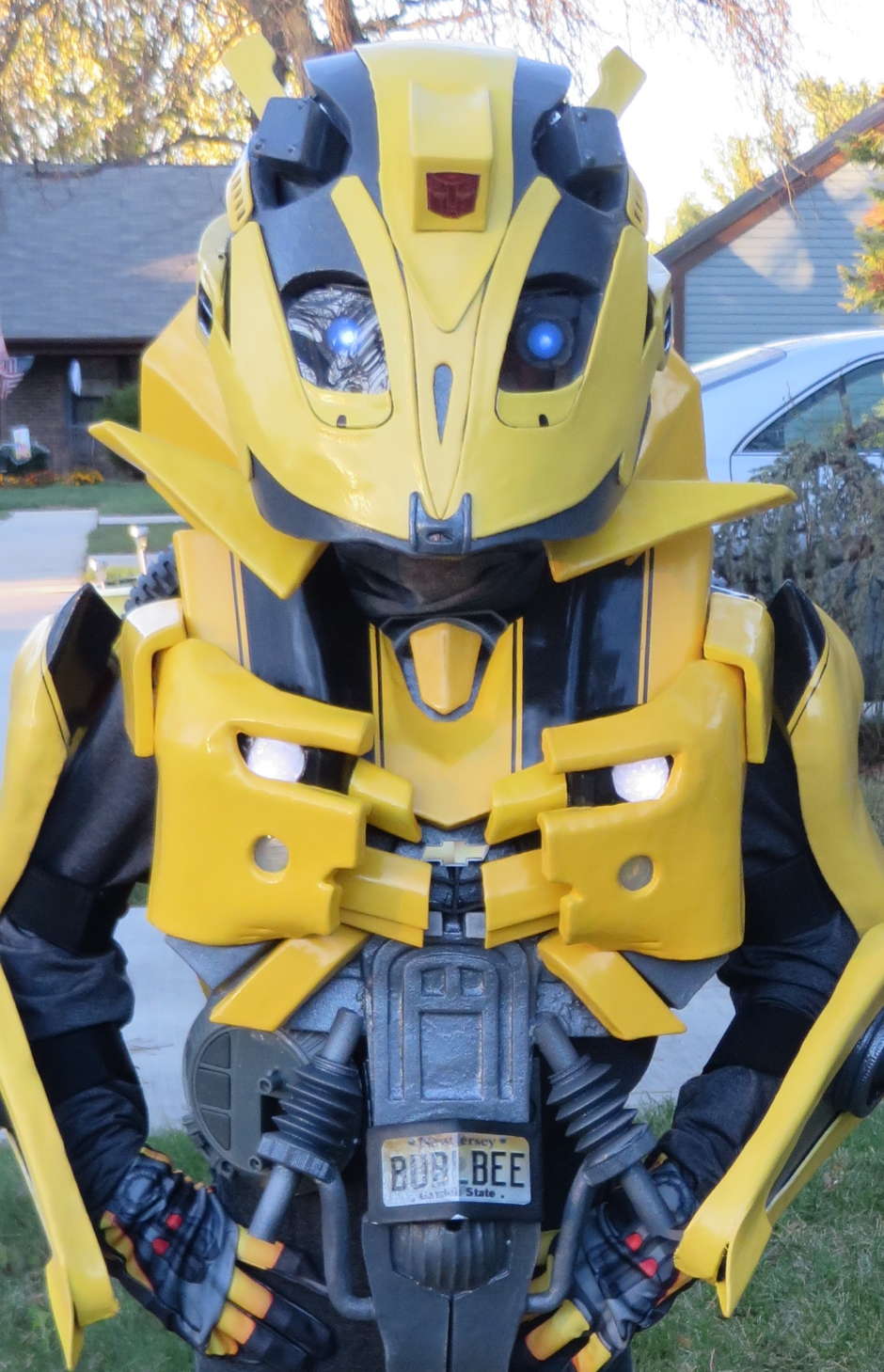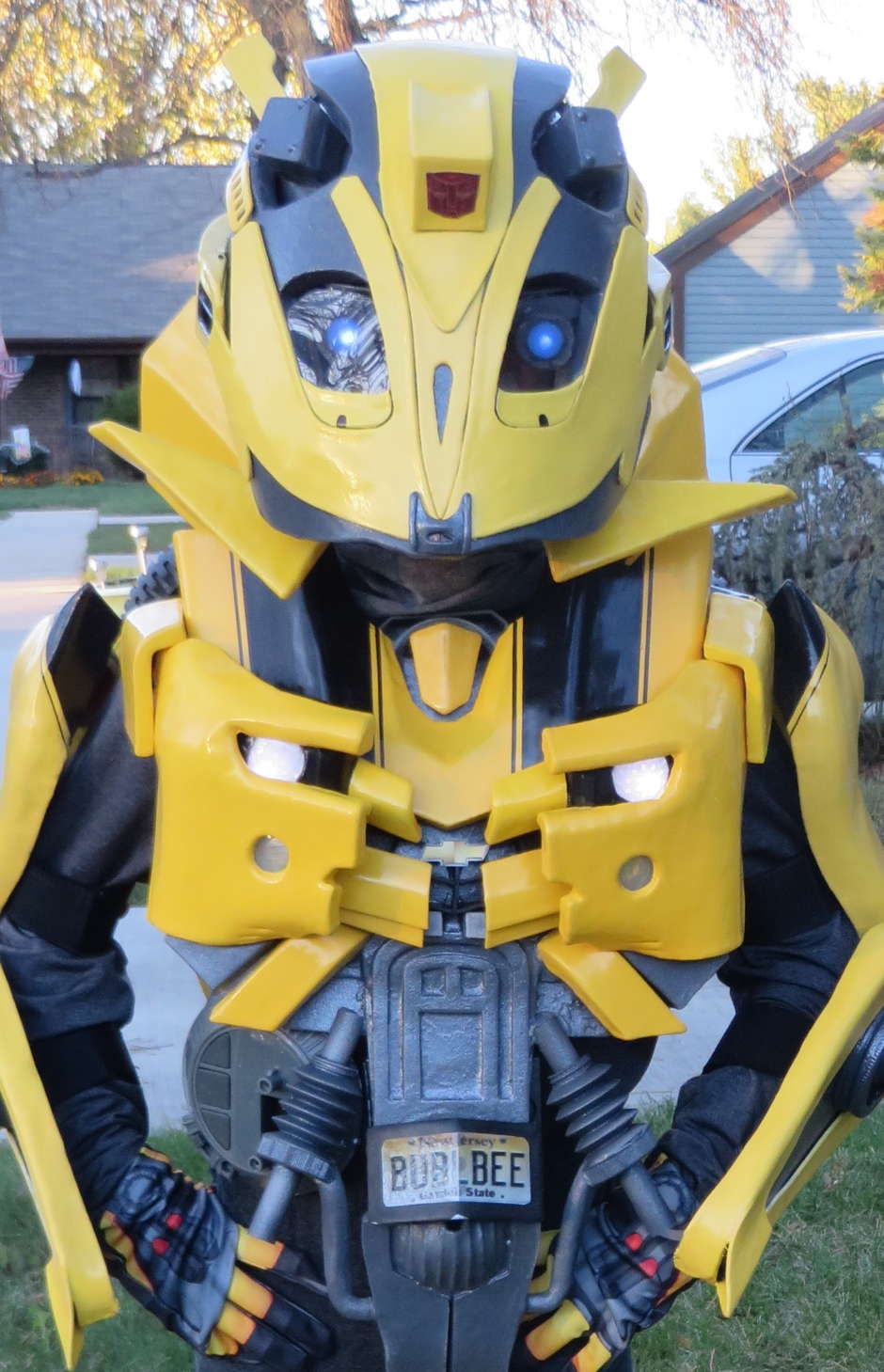 People were impressed to see Matthew's costume. People asked if they could take pictures and kids were circling around saying "Wow! Cool costume". Matthew definitely was a star this Halloween.