Incredible DIY Beauty and the Best Couples Costumes
These are the Beauty and the Beast couples costumes I made for my husband (then-boyfriend) and myself for Halloween 2013! We've since worn them to several conventions and into Salem, MA as well and had an overwhelmingly positive response every time including lots of little kids wanting to take pictures with us. Most were scared of The Beast but he has a gentle side and would let them pet his fur and hold his rose to show he's friendly ; )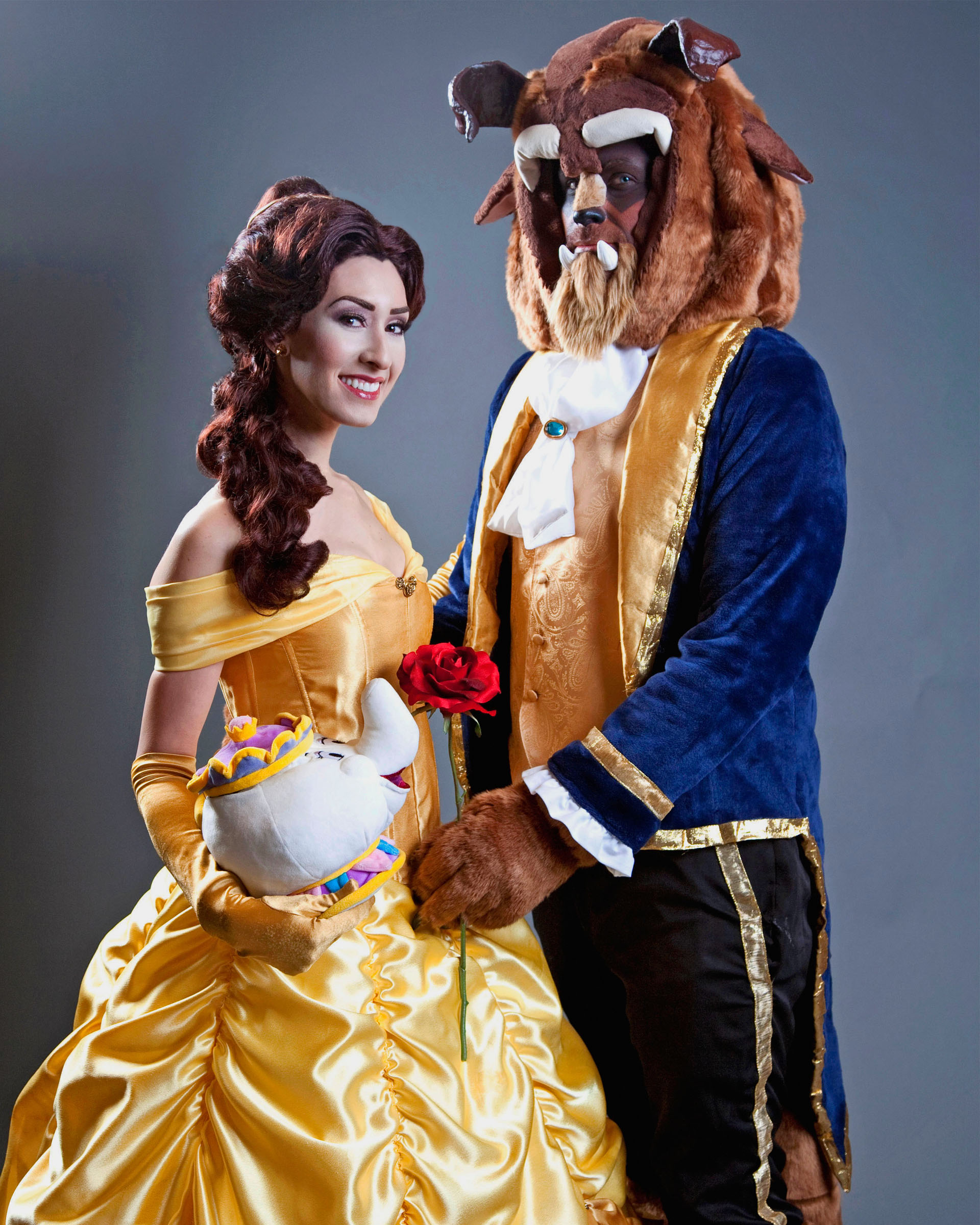 I made my Belle skirt by hand, no pattern used (since I'm not great with spacial reasoning and patterns confuse me) and did the gathers with thin elastic held taught to the seams as I sewed. I cheated with the bodice and covered a cheap corset in coordinating material; it's actually a darker gold than the skirt, as is the skirt swag, which is true to the movie though most cosplays I've seen always use the same lighter gold/yellow material for the entire outfit. I feel that it looks cheaper that way, so I stuck to the film details.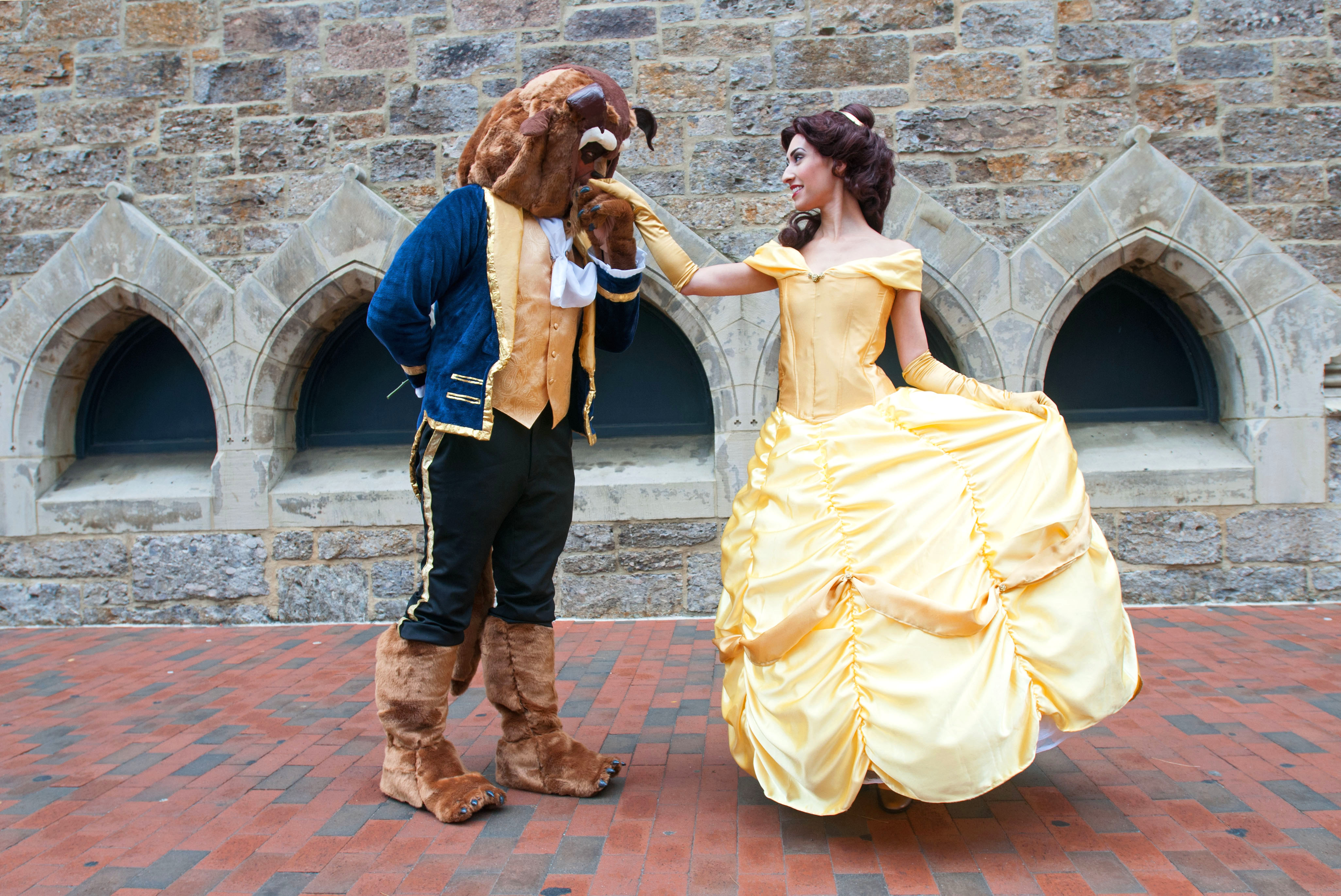 I completely re-styled the wig from an existing one with a mesh roller steam-set and am pretty pleased with how it came out. I did paint on a small widow's peak at my hairline for the character effect.
My Mrs. Potts plush actually doubles as a purse since I hollowed her out and lined her with craft foam to give me a non-squishy surface to work with for tucking away necessities like makeup touch-ups, camera, phone, etc.
My husband's Beast costume is what I'm most proud of, though. The only pieces I purchased were the gold vest (Amazon), black pants (Goodwill) and blue jacket which started life as a bathrobe (Amazon) but was heavily altered. The head piece is made from scratch from thick foam pieces glued onto a bike helmet for stability, then covered in faux fur. I left narrow openings at the sides near his ears for ventilation and so he could hear better. The front is simply pinned closed under his (faux fur) goatee, so he could take it off to air out and when eating.
The horns are made from armature wire covered in newspaper and tape for roundness, then plaster gauze strips for support and texture. They're painted in acrylics and were sprayed with a clear top coat. The eyebrows are made from small pieces of foam covered in faux suede and attached to the headpiece. The nose bridge is a piece of felt covered in faux fur material that was simply spirit-gummed to the bridge of his nose. The goatee, made of faux fur, was also spirit gummed around his real goatee.
His hand and leg covers were big challenges: the hands were supposed to be worker's gloves that I was going to glue the nails to (which I made from polymer clay pressed into a custom silicon mold, then painted with acrylics and sprayed clear) but the gloves got lost in the mail, so I made his hand covers the morning of Halloween from scraps of faux fur sewed onto flesh-colored mesh right on his hands for size and shape! The nails are just glued onto the ends with hot glue.
His legs were harder as I wanted them to jut out at his calves like the Beast's haunches do, so I hot glued foam pieces together, then covered them in faux fur; I had to use many pieces on the foot part since they were going to fit over his shoes and stay on with elastic straps that ran underneath. We closed the leg covers on the sides by corseting them up with brown plastic lanyard strings, the ends of which are tucked in at the top.
I think that covers most of the process! It was difficult but a labor of love, and the responses to them have been SO well worth the time and effort! I hope I've inspired others to try a costume they've always wanted to do but didn't think they could, because anything is possible if you put your mind and creativity to the test!
Beauty & the Beast costume submitted by Sydney M.