Clever Psychotic Cannibal Butcher Bunny Costume
I enjoy going more dark and creepy/edgy for the spooky occasion of Halloween, and so for this look, I intended to completely come up with a character from my own imagination!
My idea started with the interest I have in bunnies in general on how adorable, innocent, and welcoming they seem and then giving it a dark plot-twisted persona from there with the idea of adding in crazy red/yellowish eyes, blood, spikes, criminal restraints, and a knife. I aimed toward giving my character a gothic/punkish style (being styles I personally love for its unconventional and rebelliously expressed attitudes in a dull society) to go with its creepy motivation; which is going around psychotically after humans to butcher, eat, and make into a beverage.
I am the one wearing the costume. I used white face paint from ""Party City"" for the base of my makeup using a soft sponge, along with black eye shadow and eyeliner I already owned to apply the bunny features; such as the small whiskers, nose, and rounded-lips. Aside from that, I aimed toward expressing my character's facial edgy look by the dark shadowing of the eyes and decided to draw a heart print on one of them to symbolize my love for bunnies and especially the eye-spotted ones!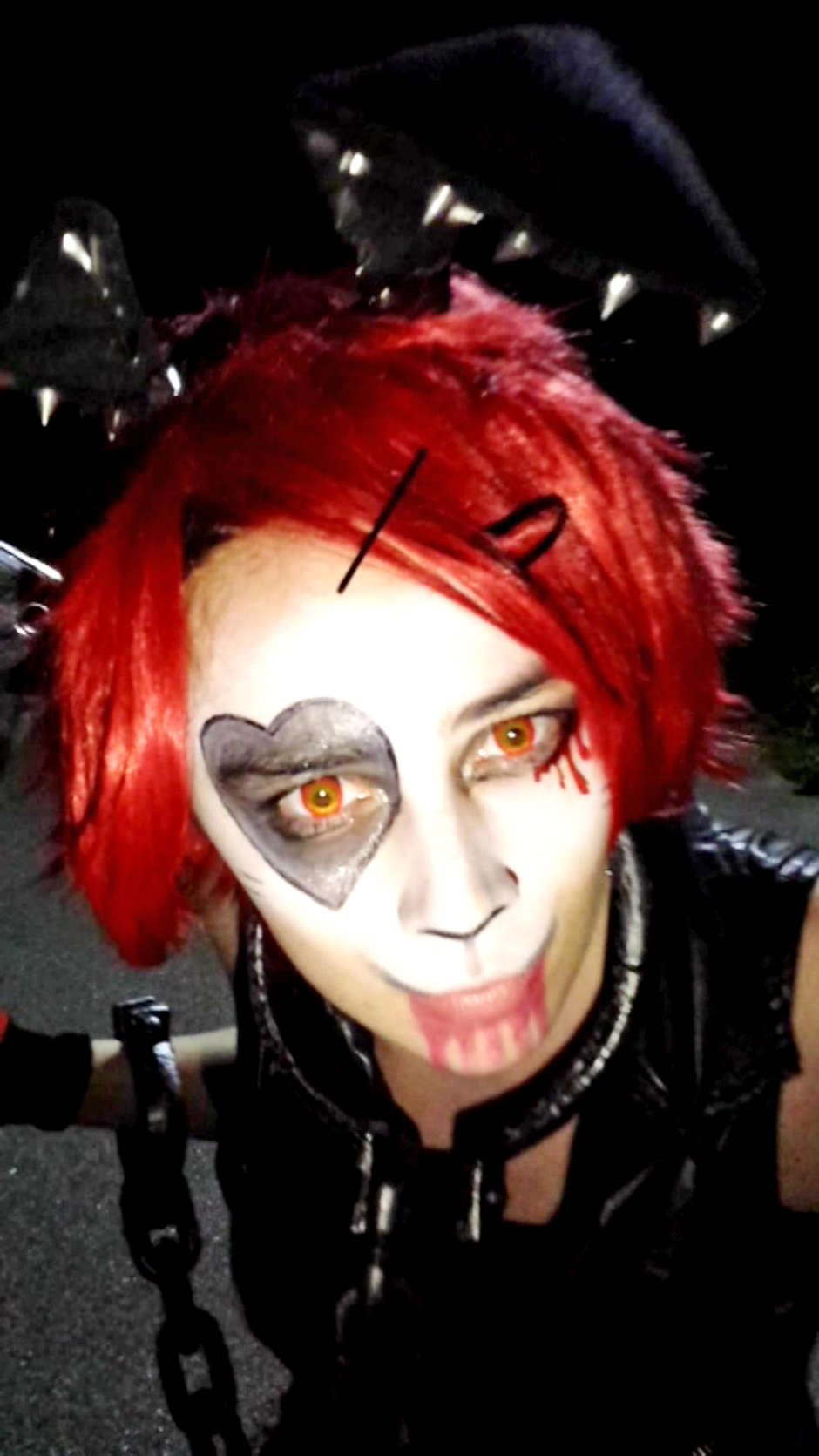 I also added the creepy essence by applying drippy red face paint on the mouth to appear as though the character is drooling blood. Most of the outfit I already had in my wardrobe; such as the jacket, which I bought in "Hot Topic", the tutu skirt, which I bought in "Subculture Corsets", the stockings, which I bought in "Party City", and the shoes, which I at "Burlington".
I already had the red wig, which I bought a while back on a website called "Light in The Box" under the category [Short Anime Wigs], and all the majority of the accessories I bought in ""Party City""; such as the spiked bunny ears hairband, the chains, the realistic bloody neck collar, the finger-less gloves, the small attachable chains on skirt, the red and white swirled straw, and fake butcher knife.
The spiked neck collar is from "Hot Topic" and the crazy yellow and red eye contacts are from "Ammar Beauty Supply". The jug of fake blood was a DIY I made by cleaning out a finished gallon-carton of milk, pealing off its original sticker, writing out "Human Blood" on a piece of paper using a red sharpie, taping the fake label on the carton with scotch, then carefully filling the empty carton with cranberry juice, then applying the straw.
Thus with all this and using my imagination, my costume and character, "The Psychotic Cannibal Butcher Bunny", was born!